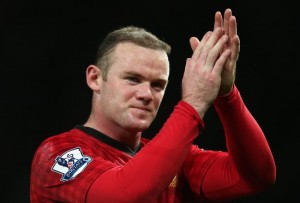 Name: Wayne Rooney
Who: Being 5 ft 10 in tall and 182 lbs of weight, Wayne Rooney an English footballer who plays as a forward for Premier League club Manchester United and the England national team.
Wayne Rooney's height is 5 ft 10 in or 178 cm
Wayne Rooney's weight is 182 lbs or 82.7 kg

Full name: Wayne Mark Rooney
Date of birth: 24 October 1985
Place of birth: Croxteth, Liverpool, England
Early life: When Rooney was 9 years old, he scored 99 goals for a local junior league – thus it was hard not to spot his talent. Having caught the attention of a scout with the Everton Football Club, Wayne Rooney signed with Everton and got into the the club's youth ranks where he would play for the next several years.
Professional career: August 2002 brought Rooney success. Wayne made his professional debut with Everton first, and two months later, he showed his penchant for scoring and coming up big in important games when he became the youngest-ever goal scorer in Premier League history. Thanks to that goal of his, Rooney got into the record books, and the last-minute score steered the team to a victory over Arsenal (which had come into the contest sporting a 30-game unbeaten streat). In 2002 Rooney captured the BBC Sports Young Personality of the Year award.
Outside of the field: Rooney wrote three books as part of his contract with HarperCollins. The first one was his autobiography, Wayne Rooney: My Story So Far. 
Personal life: Never single, in 2008 Rooney married his longtime girlfriend, Coleen McLoughlin. In November 2009 they became parents when Coleen gave birth to a son, Kai Wayne Rooney.
Wayne Rooney's height is 5 ft 10 in or 178 cm
Wayne Rooney's weight is 182 lbs or 82.7 kg
Do you think Wayne Rooney's height and weight or the other facts are incorrect? Or do you have any other comments about this page, please leave a comment here!