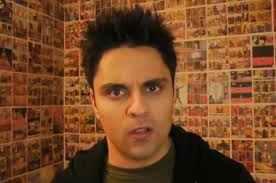 Name: Ray William Johnson
Who: Being 5 ft 8 in or 173 cm of height and 179 lbs or 81 kg of weight, Ray William Johnson is an American actor and comedic vlogger best known for his YouTube series Equals Three, in which he provides commentary on viral videos.
Ray William Johnson's heigh is 5 ft 8 in or 173 cm
Ray William Johnson's weight is 179 lbs or 81 kg
Date of birth: August 14, 1981
Place of birth: Oklahoma City, Oklahoma, United States
Occupation: Video blogger, producer, actor
Education: In 1999 Johnson graduated from Norman North High School and later studied at Columbia University.
Career: While studying at Columbia University, Johnson launched his first show, Equals Three, combining two popular video styles: watching viral videos and video bloggers. In Equals Three, Johnson reviews, criticizes, and adds commentary to some of the internet's latest viral videos. Equals Three episodes are uploaded to Ray William Johnson's channel every Tuesday.
Johnson used to have an animated musical comedy group whose Youtube channel was called "Yourfavoritemartian" which ended after the beef between himself and Maker Studios. Nevertheless, for this musical group Johnson writes lyrics, raps, sings, composes beats, and sometimes collaborates with other musicians to produce the songs.
Interesting facts: Equals Three has been recognized by Guinness World Records. Besides, it is on one of the most subscribed channels on YouTube with over 8 million subscribers in May 2013.
A lot of celebrity guests were cast on Equals Three, including Robin Williams, Sarah Silverman, Gabriel Iglesias, Kal Penn, Margaret Cho, Bobby Lee, T.J. Miller, Garfunkel and Oates, John Cho, Jason Biggs, Andy Milonakis, Timothy De La Ghetto, RZA, and KassemG.
Personal life: Ray William Johnson has never been married, has no children and is not dating anyone at the moment.
Ray William Johnson's heigh is 5 ft 8 in or 173 cm
Ray William Johnson's weight is 179 lbs or 81 kg

Do you think Ray William Johnson's height or the other facts are incorrect? Or do you have any other comments about this page, please leave a comment here!